OUTLIERS

HUFFINGTON POST:

"humor,
       rage and
             sexual fantasy
                      with equal aplomb"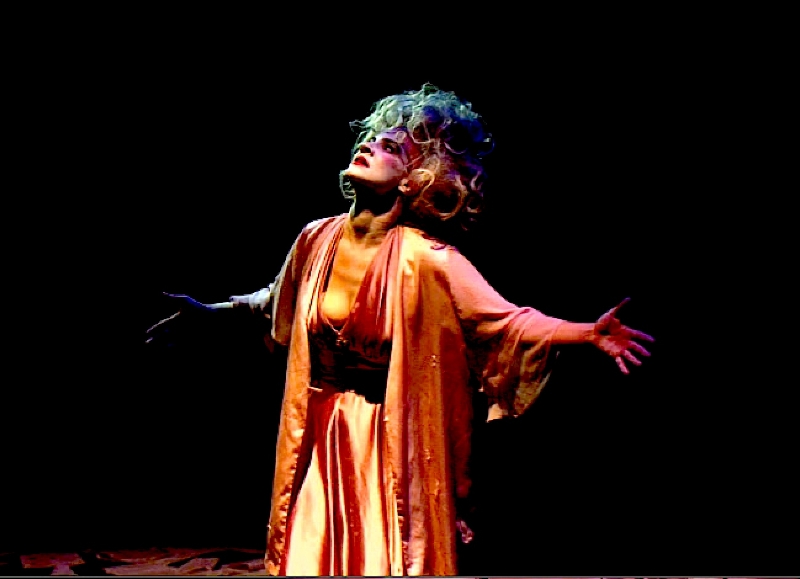 ICONOCLASTS
 
creating surreal
multi-arts
multi-media
dreamscapes

based on original language
& subversive fables
experienced live - transforming
stages, galleries, pavilions
and the art of exhibition
and on screen
"The dreamy, poetical quality of
the writing and of the imagery is
beyond reproach."   
(L.A. WEEKLY)
"no daydreaming
at night"
a portable surrealism factory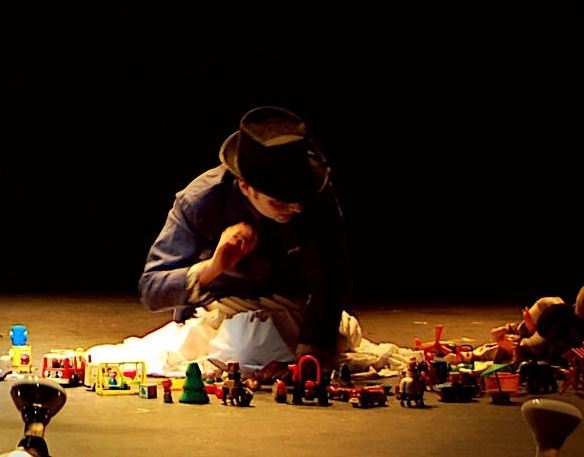 John Sinner writes (and directs & costumes) these experimental socio-political fantasies about the fallout from societal & family narcissism and patriarchy, the disenfranchised without a place/seat at the table, the toll that disconnect takes, and the imperfect path forward of resilience and creativity.
Stark, subversive, bracing modern-gothic fairy tales, Sinner's writing, direction and costuming, his lyrical-emotive language, wicked/dark humor and the hyper-drama of his characters and stories, guide FANCYPLAYGROUND's surreal mixing of evocative environments, theatrical performance, videos, group movement & costuming
-- as if offspring that resulted from a late-nite cocktail mix of  Buñuel, Bacon, Almodóvar and Caryl Churchill, with a healthy dash of Dario Argento and Nobuo Nakagawa.
John is a native of L.A., but an outlier here as an experimental language-based multi-media surrealist (as well as being a feminist gay artist living with multiple sclerosis). 

John studied at the Guildhall School of Music & Drama in London, the Trinity College in Dublin, and the O'Neill Center National Theatre Institute.

He started his professional career joining the downtown team producing Reza Abdoh. ( – J refers to the on-stage gigantic sculpture created of John's naked derrière in Abdoh's "Bogeyman" as John's "diploma" in surrealism.)

In 2013 John won The Sherwood Award for "Innovative and Adventurous New Artists".
 
John has written, directed and designed the costumes for:
- "The Devil Has A Sister (A Sororicidal Tale)" at the Nederlands Theatre Festival Amsterdam Fringe Festival; 

- "Happy Ending (Who Will Live, Will See)" at Highways Performance Space;
- "2 By Sinner: Unburthen (To My Soul's Delight!)/ If Water Were Present It Would Be Called Drowning" at the New York International Fringe Festival;
- "If Water Were Present It Would Be Called Drowning" at REDCAT/Studio and at The Hollywood Fringe Festival;
- "Blood Is My Legacy! (A Theatrical Extravaganza of Pure Family Values)" at Art/Works Performance Space;
 "What Remains of a Whore"
JOHN: 

"I like my provocation with a shot of unexpected laughter that gets stuck in the throat -- or with intense, raw emotion.
"I never ask anyone after a show 'what did you think? . . .
'I want to know 'what did you feel?'"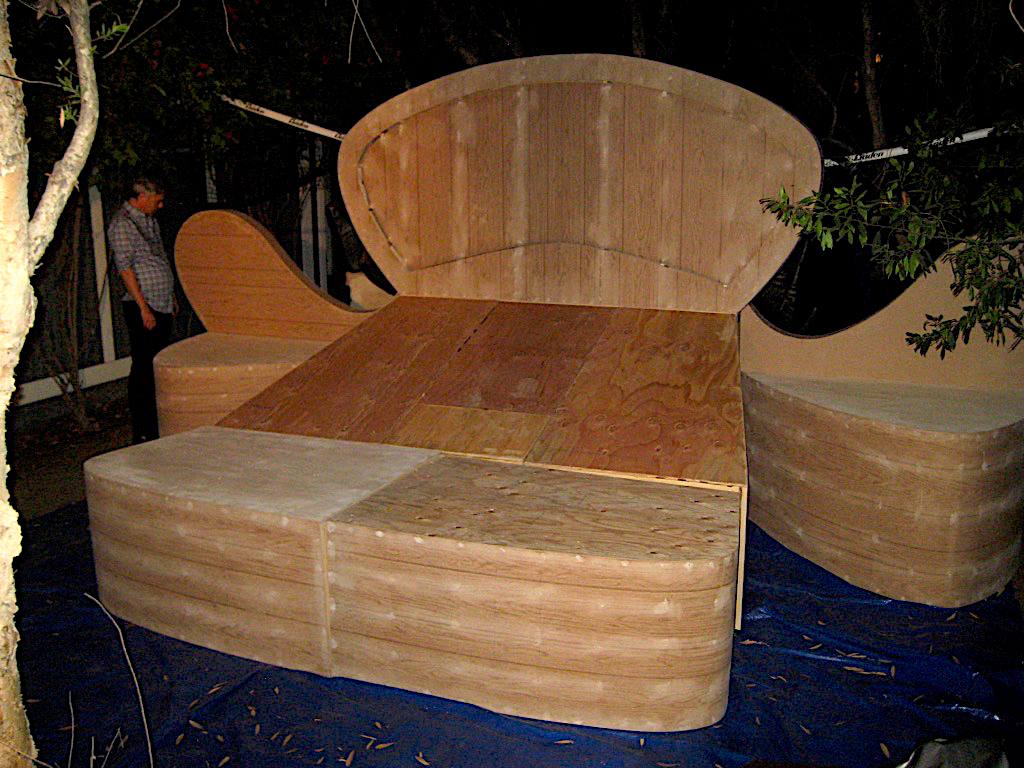 ART.DIRECTION
PRODUCTION.DESIGN

J Goodkind designed the production for the company's last three  experimental events:  An Invasion of Decency!,  The Devil Has A Sister (in Amsterdam), and Happy Ending (Who Will Live, Will See).  Sinner refers to J as his "chief creative collaborator."
J:  "The company's most recent focus has been to merge the modern art of pavilion & open gallery exhibition with live surreal performance and commissioned collaborative artworks, all using as catalyst John's socio-politico fables. 

"Our more recent adventures transforming stages and exhibition spaces stem from walking with John into different countries' pavilions at the international Biennale of Architecture . . .  the physical sensation that comes from the architecture of exhibition.  There's a sensory excitement walking into that kind of tabula rasa open space with no expectations, where you're not presented with any routine of 'here's your program, here's your seats, there's the stage'.  Like pavilions at a World's Fair - or when your senses heighten walking into a new exhibit or a gallery space with new work;  taking you out of your routine, inviting you to set aside preconceptions of what you're about to experience."
"Often the 'transformation' we do to a space is simple, subtle, just a shift of perspective  . . . for example, we were invited to do a show in a theatre black box & we noticed adjacent to it was a separate art gallery, so we asked to reorient their audience flow and designed our event to tie the two spaces together, to create a combined walk-thru & sit-down show experience."  
J notes:  "This art form is all about the collaborating -  whether with the Belgian surrealist Sammy Slabbinck ( - he created 10 projected photo-montages and the bird animation for Decency!), or the Romanian video surrealist Adam Soch with whom John & I have worked closely on so many of these projects - as well as such lighting and sound artist-collaborators as Andrew Schmedake, Matt Richter, Danny Hynds, the creative master rigger Miguel Benavides and set builders Daniel & Dylan Giagni and Red Colegrove - to note just a few. 

"We like less-is-more in design.  Perhaps that's from indie budgets - but actually we've come to favor design that's evocative, the opposite of CGI or production that fills in every detail with nothing left to imagine.  We like these to feel hand-made, to be playful amidst the darkness . . . John & I like that roller-coaster effect."  

J Goodkind's services are furnished by the creative services company Consolidated Soot, LLC.
FANCYPLAYGROUND
FANCYPLAYGROUND is a project of Theatre Revelation, our 501(c)3 non-profit.

Funding for FANCYPLAYGROUND comes from a diverse community of supportive artists and charitable private donors contributing at various donation levels. 

The National Multiple Sclerosis Society has featured FANCYPLAYGROUND's John Sinner in its national media/ad campaigns, and John continues to be an invited public speaker for the National MS Society's Living Well Program, sharing the "origins" & continuing story of FANCYPLAYGROUND/Theatre Revelation with those dealing with the personal trauma of receiving their initial Multiple Sclerosis diagnosis.   As one of the early participants in the National MS Society's Living Well Program - John learned to deal with his then-new MS diagnosis by developing a "Create Thru It " life strategy  - a strategy that led to the formation of, and which continues to inspire, this company. 


The National MS Society's Living Well Program video featuring John Sinner (in which John addresses newly diagnosed persons):